Hokie scientist breaks new ground for TED Fellows
Claire Simeone has become the first ever veterinarian to be named a TED Fellow — a dream come true she credits in part to attending the Virginia-Maryland College of Veterinary Medicine at Virginia Tech




"Virginia Tech is basically where everything started," she said. "I'm so grateful for the education I received there and the training … It's such a versatile degree," Simeone said.
Have you read the latest edition of Virginia Tech Magazine?
| | | |
| --- | --- | --- |
| | Armed with the traditional lunch-pail mentality, Hokies are building Virginia Tech's future as a leading 21st-century land-grant university. We've highlighted a handful of the individuals who have picked up the lunch pail and are hard at work. | |
| | |
| --- | --- |
| | Hokie Highlights |
GOBBLE BACK: What's your favorite snow day memory from your time at Tech?
Tweet us @VT_Mag or email us VTMag@VT.edu.
| | |
| --- | --- |
| | Around the Drillfield |
| | |
| --- | --- |
| | Hokies In The Headlines |
Hokies are taking over Kings Dominion
Join us for Virginia Tech Day at Kings Dominion on May 19. Discounted admission is available for Hokie alums, students, families, and friends. Admission is $30.99 and includes parking.
Wear your orange and maroon and join us for fun, giveaways, and a special guest appearance.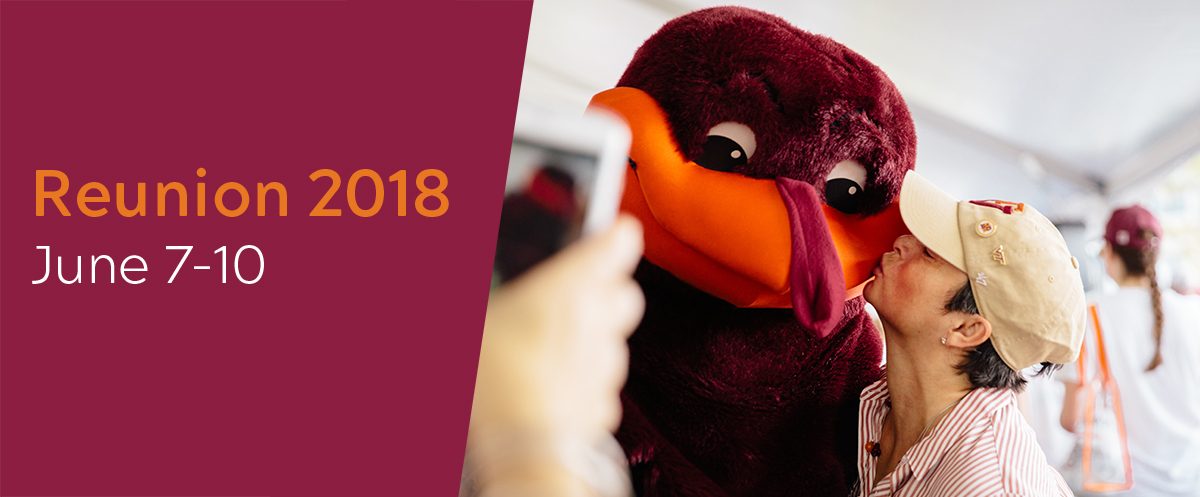 Reunion 2018 registration is open
Make your plans now. You don't want to miss our new summertime reunion June 7-10. The weekend will kick off with a welcome from President Tim Sands. From there you can choose from tours of campus facilities and seminars from top faculty.
After exploring campus, dine with friends on the Drillfield and catch up during happy hours with others celebrating their anniversary years.